by Mr Credit Card
For solo entrepreneurs who use Vista Print for their printing needs, Discover Card holders can earn 10% rebates (or rather a 10% discount) when you shop at their website via going through the Discover's online shopping portal (which you can access when you log into your account). With your choice of over four thousand designs, you certainly have a great selection of cards or any other business needs you have. their prices are certainly comparable to other printing companies. Below are screen shots I have taken.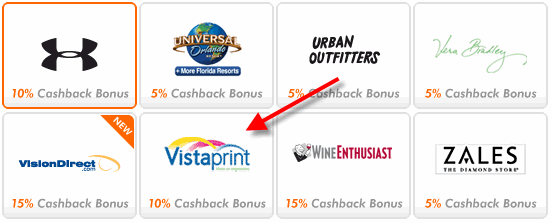 Clicking on the icon takes you to the page which lays out the fine prints.
Clicking on the start shopping button will take you to the website where any purchase that you make with the Discover Card will be tracked. This is definitely a great deal in working with a quality producer of business cards.
All Discover cash back credit cards have this feature. I would suggest getting the Discover® More® Card – $75 Cashback Bonus® as you can get a $50 cash back bonus after you have spent $599 after 3 months. It also comes with a 0% APR* offer for FULL 12 months on balance transfers. College students can also get the Discover® Student Card.
Chase Ultimate Rewards Mall also allows you to earn 5 pts for every dollar you spend with Vista Print. Check out the informational screenshot:


Another card that allows you to cash in on rewards for shopping with Vista Print is Citi Rewards. Like Chase Ultimate Rewards, they allow you earn 5pts for each dollar you spend with them. Also, like Chase, the terms include points are not eligible on gift certificates, shipping & processing, sample packs, catalogs, electronic services, creative services and postage (part of mailing services).
Related Posts
The following Discover Cards have shopdiscover.com and you can get these discounts with them.
Discover More Card Review
Discover Student Card Review
Chase Freedom® Visa – $100 Bonus Cash Back Review – They also have a similar shopping portal as Discover with some similar and overlapping merchants.