by Mr Credit Card
Vera Bradley sells stylish quilted cotton luggage, handbags and accessories. Turns out they have partnerships with credit card companies so cardholders can get discounts and rebates when using their credit cards' online shopping portal. But as with most partnerships, the rebates and discounts that you will earn will vary depending on the deals that they have struck up with each individual credit card issuers.
We will now compare the rebates or discounts that you will receive when you shop at Vera Bradley's website with Discover, Chase or Citi. You need to have one of their cards to be able to do so. And the way you go to their site is actually through your credit cards' online shopping portal.
Discover – Discover Cards' online shopping portal has them as an online retailer. Going to Vera Bradley's site via logging into your Discover account will earn you 5% rebates (which I look at it as a discount).

Clicking on Vera Bradley's icon takes you to the page which list the fine prints.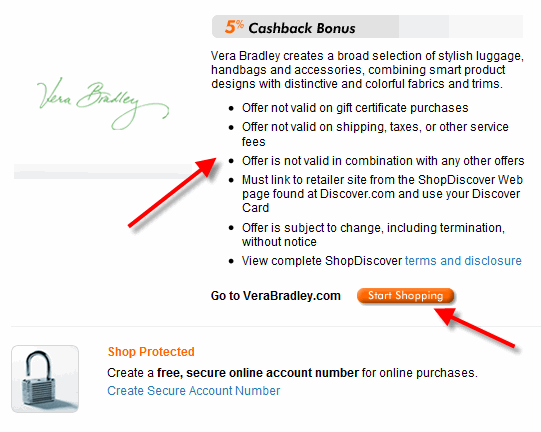 From this page, clicking on the start shopping button takes you to their website.
Chase Freedom – The Chase Freedom also has Vera Bradley as their partner on their Ultimate Rewards program. You can earn 3% cash rebates when you shop through Ultimate Rewards shopping mall.

Citi Cash Returns Card – The Citi Cash Returns Card has an online shopping portal called Citi Cash Bonus Center. You can earn 2% rebates shopping for Vera Bradley's products and 1% for just using their card – making it a total of 3% rebates you earn when you use the Citi Cash Returns Card to shop at Vera Bradley's online store through the Citi Bonus Cash Center.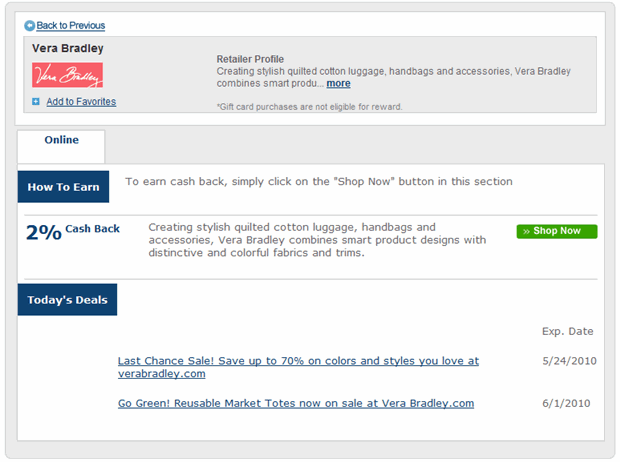 From the screenshots that you can see here, it appears that Discover offers the best deal if you were to shop at Vera Bradley's online store. Chase and Citi have a slightly lower rebate level (3% versus 5% for Discover). The other thing that you have to be aware of is the with the Discover Card, there are some fine prints like you will not receive the 5% rebates for things like gift certificates and any taxes etc.