by Mr Credit Card
Under Armour has partnerships with a few credit cards on their online shopping portal. Here, we are going to highlight how you can get discounts with them (or rather cash rebates).
Discover Card Card members of Discover Card can get 5% rebates when they go to Under Armours' site from shopdiscover (their online shopping portal). After logging into your Discover account, simply navigate to the online shopping portal. Then search for the Under Armour icon and click it.

It will take you to the page with the fine prints. Click on the start shopping now button, and you will bring you to Under Armours' website where your purchases will be tracked by Discover.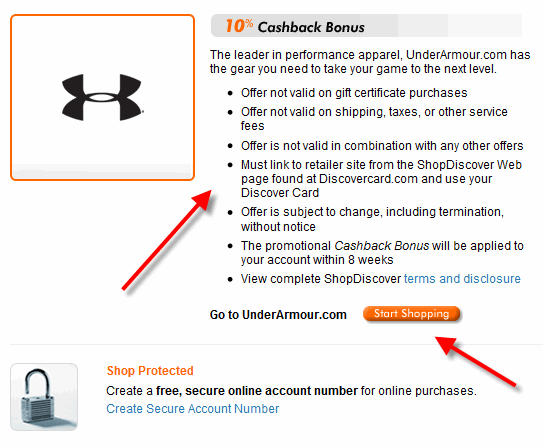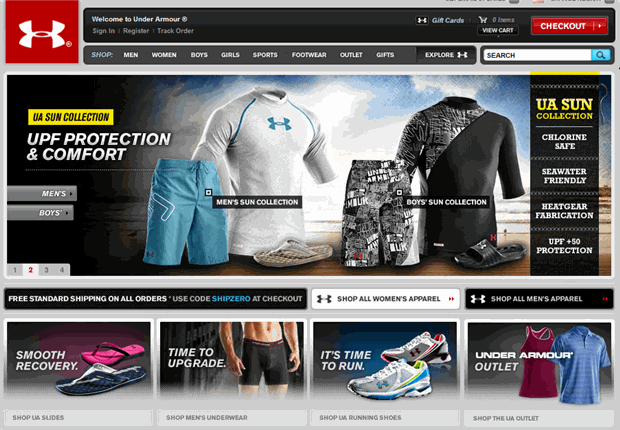 Chase Freedom – Chase Freedom card members can get 4% rebates when they use the Ultimate Rewards shopping portal to go to Under Armour's website and shop there.

Citi Cash Returns – Citi Cash Returns card members get a total of 4% rebates (1% for using the card plus 3% for ing Under Armour products) through their online shopping portal Citi Bonus Cash Center.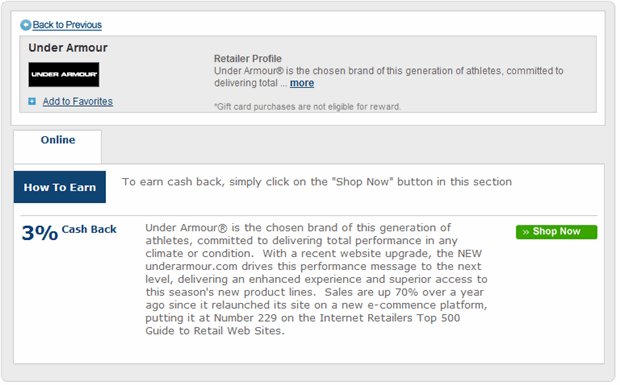 Note – For whole of 2010, Discover is awarding prizes (1 $500 gift card, 4 $100 gift card and 75 $25 gift card) every day. You get to enter this contest if you use your card. On 1/1/2011, there will be a draw for a $1,000,000 prize to a lucky cardholder.