by Jacqui Stewart
On the Chase Freedom Ultimate Rewards, they have a new program that allows you to "Pay Yourself Back". Â What this is, you can use your points to pay for a purchase you made in the most recent 60 days. Â How awesome is that?!?!?!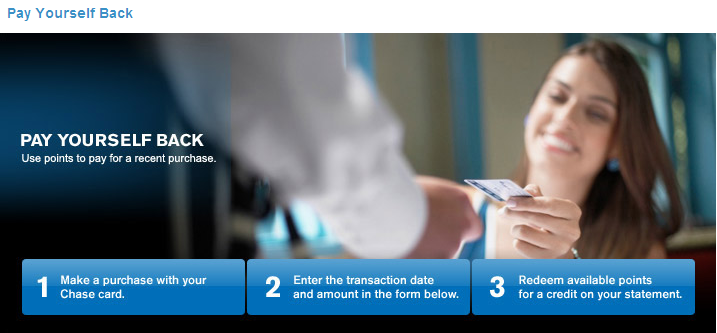 All you have to do is enter the date and amount of the purchase and click "Calculate Total" and it will determine how many points you need to pay for that item. Â I don't think I've heard of any other credit card allowing you to use points this way. Â I love this option!

I can't use much right now, but I can say, I can't wait until my points build up again to allow that. Â Owning my own home? Â I'm almost positive my points will be back up there in no time! Â Hmmm. Â May have to find out how many points I'll need for a new kitchen sink???
There is one main guidelined for this. Â You must have $20 available, a.k.a. 2000 points. Â It takes several days to process and the request cannot be cancelled should you change your mind.

What item would you get and allow your Ultimate Reward points pay for?