by Jacqui Stewart
Instead of receiving gift cards or merchandise with your points, you also have the option of receiving cash. Â While gift cards are great, in todays economy, depending on your situation, cash can be better. Â Recently I had well over 40,000 in Ultimate Rewards points on my Chase Freedom card. Â I did a mixture of gift cards for Christmas gifts and cash to pay bills. Â I felt that was a good balance. Â A lot of people tend to go for the cash, however, at the time that I traded my points in, they were offering a discount on cards again, and some of them were ones that I knew my daughter would love for Christmas.
If you choose the option of receiving cash, you will receive a check written out to the name appearing in the shipping information field. Â Ultimate Rewards allows you to start cashing out your points at low amounts shown below at only $20.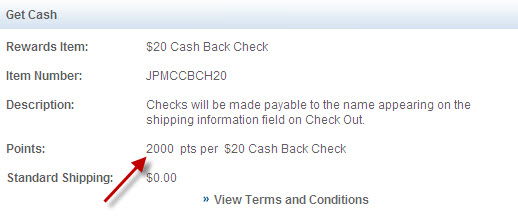 For each $.01 you spend, you earn 1 point. Â While that may sound low, it definitely adds up. Â Like I stated above, I had well over 40,000 points. Â Most of those points were earned for items I bought for my house projects. Â See how easy they accumulate? Â Why not be rewarded for what you spend.