by Jacqui Stewart
If you have multiple cards with Chase, they actually allow you to transfer accrued points from one card to another. As I only have one Chase card, I can only show you the image from the first page to try and set it up.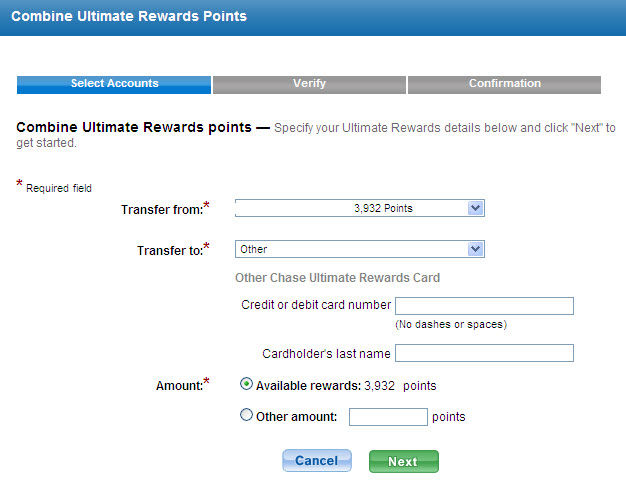 All you have to do is select which card you want to transfer from and then which card you want to transfer to. Then, just enter the card number and the borrowers last name. You can choose to transfer the whole amount, or just a certain amount of points from one to the other. You would then just go on to verify the transfer and then confirm it. Easy as can be!
I think this is a great option primarily because if you do happen to have and actually use two cards with Chase, you don't have to wait until one card has the point value to purchase what you want from the Ultimate Rewards. Not many cards, I would think, allows that kind of freedom, excuse the pun! I've found with Chase, for the most part, they are more than willing to work with you and allow you to have a card that you can work to your advantage.
Do you have more than one Chase card? Have you used this feature? Is it as easy as it looks?