by Jacqui Stewart
This is an incredible deal for you Windy City peeps! For 11,900 points, or $119 added to your card, you can enjoy a food tasting and cultural tour through the city. From the Chase website: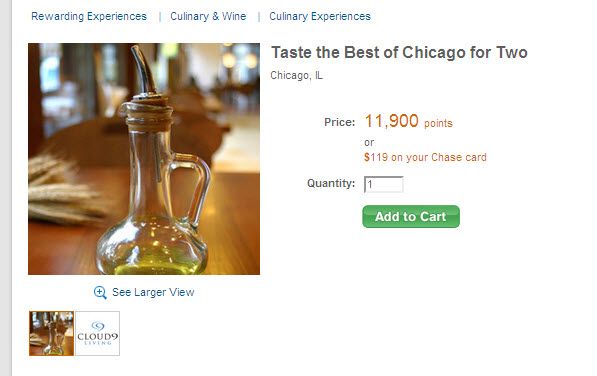 Explore Chicago's historic neighborhoods and rich culture, one bite at a time. Enjoy this unique food tasting and cultural walking tour through Chicago's most famous and delicious neighborhoods and kitchens.
Your guided and fully-narrated tour includes delectable food tastings from one-of-a-kind specialty food shops and ethnic eateries as well as an insider's view of Chicago: The rich history, treasured architecture, dazzling entertainment offerings and neighborhood haunts.
Your Experience includes:
- 3-hour walking tour for two to enjoy the sites and bites on the Gold Coast, Old Town and Lincoln Park (up to 20 people on the tour)
- Visit seven different shops to delight your palate, including:
*An award-winning Chicago-stuffed pizzeria
*America's top spice and herb specialty shop
*A fudge and confection specialty store
*A gourmet foods store and cheese shop
*An authentic Ashkenazic Jewish deli
*An aged balsamic vinegar and olive oil specialty store
*A high-end specialty loose tea and tisanes merchant
Available Date(s):
April through May, the tour is offered seven days a week
June through August, the tour is offered Monday through Thursday only
September through November, the tour is offered seven days a week
Dates are subject to change
The tour begins at 11:00 a.m.
Available Location(s):
Chicago, IL
Enjoy and have a bite of pizza for me and a nice tasty treat!