by Jacqui Stewart
It's time to go through your closets and say out with the old and in with the new! American Eagle Outfitters is having an awesome sale of up to 50% off. Can't get much better than that, right? They have some great long sleeve shirts at some pretty decent prices. Check them out: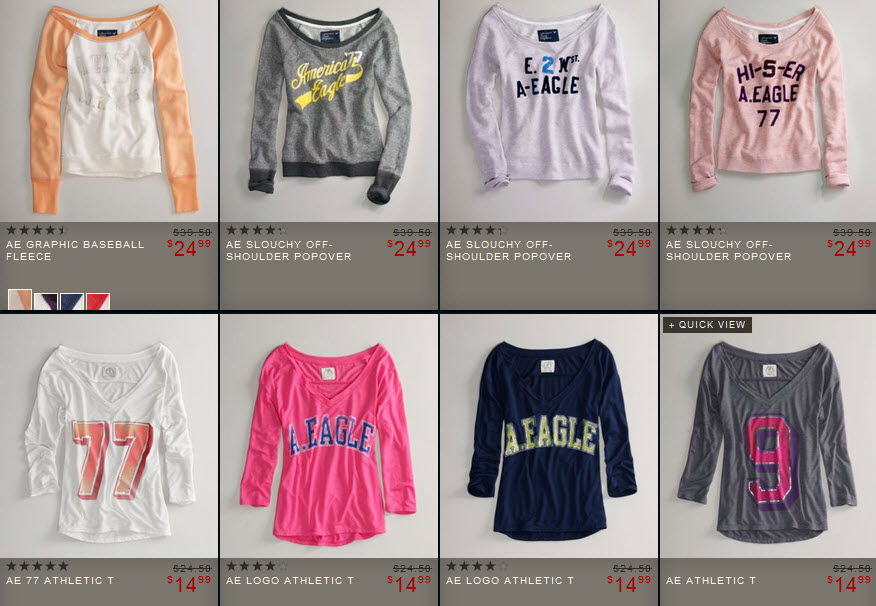 It's sports season, so, those are perfect! About American Eagle Outfitter from their site:
American Eagle Outfitters, Inc. is built on more than 30 years of customer focus, dedication, and innovation. The company was founded with one store, in Novi, Michigan, in 1977. Today, you see many iterations of the number 77 throughout our clothing, vernacular and imagery – one of the many threads of respect to our rich heritage.
Chase is currently offering 3 points back per dollar spent at AEO. Between Back to School, Birthday Gifts and now, Christmas coming up? You can get a lot of points with your shopping here. From Chase's Website:
Earn 3 extra pts/$ at American Eagle Outfitters.
Check out with your Chase card and your extra points will automatically appear on your statement.
Extra points typically appear on your statement within 3-5 business days but in some instances may take up to 45 days to appear.
Note: Your Chase account is still open on the original window where you logged in. If you're on a public computer, we advise you to close that window.
+ By shopping online through the Ultimate Rewards Mall you are acknowledging you have read and agree to the program terms and conditions.
Bank of America also offers 3% back when shopping at AEO. So, pick your card and get to shopping!