by Jacqui Stewart
Currently Harry and David's is running a special of 20% off select gift baskets. These include fruit and treats baskets. About Harry and David's from their site:
Our unsurpassed quality is cream-of-the-crop.
Whether you're giving a gift, entertaining your family and friends, or making an ordinary day just a little more special, you can depend on us to make your gift-giving and entertaining more personal and meaningful. We make it easy to have the kind of celebration everyone loves.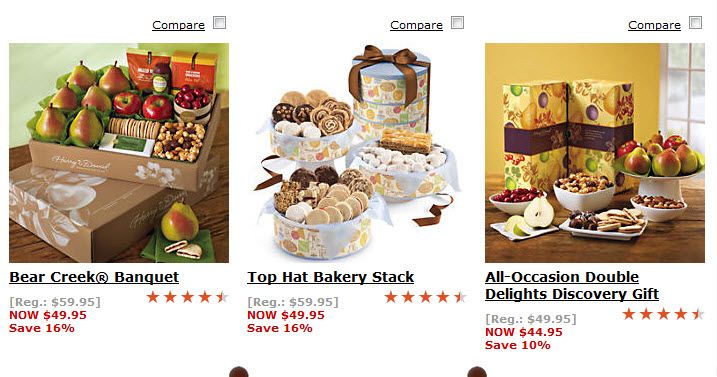 And, to sweeten the deal? Chase is giving 10 points per dollar spent at Harry and David's. That is awesome! You can get some great gifts for the people in your lives, teachers gifts, etc and still earn some great rewards for yourself. That works out well
. From the Chase site:
Earn 10 extra pts/$ at Harry & David.
- Check out with your Chase card and your extra points will automatically appear on your statement.
- Extra points typically appear on your statement within 3-5 business days but in some instances may take up to 45 days to appear.
- Note: Your Chase account is still open on the original window where you logged in. If you're on a public computer, we advise you to close that window.
+ By shopping online through the Ultimate Rewards Mall you are acknowledging you have read and agree to the program terms and conditions.
Discover Card is offering 5% cash back on every dollar spent at Harry and David's.
From Discover's site:
Famous for premium quality fresh fruit, gourmet assortments, bountiful gift baskets, impressive gift towers, bakery delights and irresistible chocolates and confections, find the perfect gift at HarryAndDavid.com.
- Offer not valid on gift certificate or gift card purchases
- Offer not valid on shipping, taxes, or other service fees
- Offer is not valid in combination with any other offers
- Must link to retailer site from the ShopDiscover Web page found at Discovercard.com and use your Discover Card
- Offer is subject to change, including termination, without notice
- The promotional Cashback Bonus will be applied to your account within 8 weeks
- View complete ShopDiscover terms and disclosure
Happy shopping and snacking!