by Jacqui Stewart
Through September 30, 2011, you can save 10% or 20% on gift cards with Chase Freedom. For each gift card that you redeem between July 6 and July 30, you are entered in for a chance to win up to a $10,000 gift card.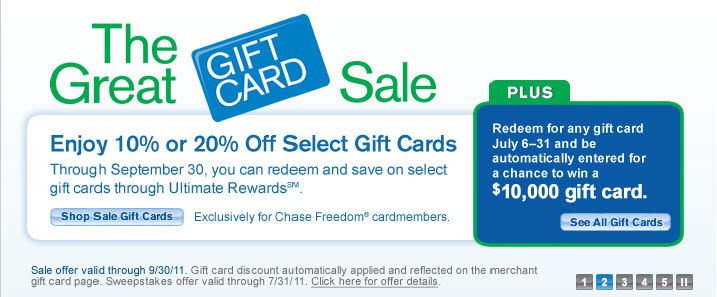 From the Chase website:
The Great Gift Card Sale Sweepstakes Prizes
Redeem for any sale or regularly priced gift card July 6–31 and be automatically entered for a chance to win a gift card worth up to $10,000!
$10,000 Pier 1 Imports gift card – 1 winner
$5,000 Bed Bath & Beyond gift card – 1 winner
$1,000 Kohl's gift card – 30 winners
$200 Old Navy gift card – 100 winners
$50 TJMaxx gift card – 500 winners
These are great prizes! So, not only are you entering for a chance to win one of these gift cards, you are also receiving a discount on gift cards that Chase currently offers. This is certainly a win – win situation. Even if you don't need any for yourself at this time, don't forget for gifts for friends and family to take advantage of this deal.

If you enjoyed this post you may also like: