by Jacqui Stewart
Yes. Yes you can! Chase has many different offerings that you can use your points for. How fantastic! For a private Pilates class, you will only use 10,400 points, or you will be charged $104 on your card. From the Chase website: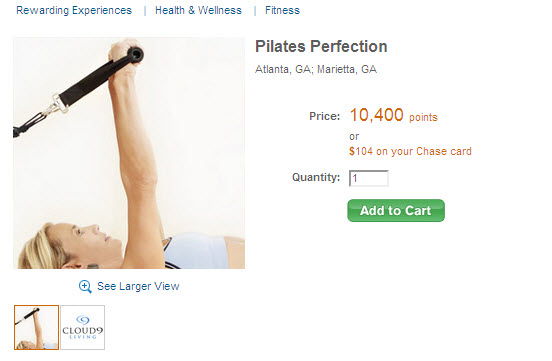 Whether you're new to Pilates or you already practice, a one-on-one session with an expert instructor will help you build a plan to achieve your wellness goals. This 70-year-old fitness workout incorporates both Eastern and Western philosophies of physical and mental conditioning, focusing on improving flexibility and strength overall. Practicing Pilates can help you tone and firm your body through posture corrections and the reconfiguration of muscles, but it also allows your mind to focus and relax with repetitive movement. Your instructor will guide you through a series of movements that will engage your mind and body, leaving you with a sense of strength and balance.
Your Experience includes:
- 1-hour private Pilates session for one in a studio
- Learn various movements and basic Pilates techniques to achieve mind and body health
- All equipment
This offer is only for Atlanta, GA and Marietta, GA residents and is available Daily, Year Round. Now, go sign up and start feeling good!