by Mr Credit Card
Just got this email recently from a reader and thought I'd share a couple of tips of how to save money with credit cards when shopping at overstock.com
I just want a credit card to make purchases from overstock

MS. Carolyn Strickland
Answers – Carolyn, there are a few ways to use credit cards for overstock.com purchases. You could get a overstock.com credit card where you can earn points when you use your card and 3 points for every dollar you spend at overstock.com and you can exchange the points you earn for reward certificates where you can use at overstock.com.
However, there are other cards that allow you to get discounts with overstock.com. The two cards are the Discover More Card and the Chase Freedom® Visa – $100 Bonus Cash Back. I'll show you some screen shots below.
Chase – The Chase Freedom Card's reward program is based on their new Ultimate Rewards. One of the perks of that program is that you can access many online merchant partners through your account and earn discounts with their merchant partners. The discounts vary anywhere from 2% to as high as 20%. Overstock.com is one of their partners and you can earn 6% rebates with the Ultimate Rewards Program.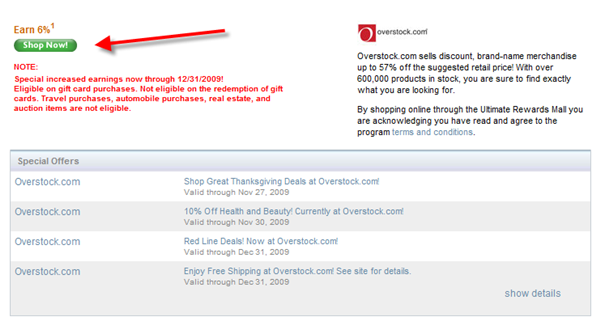 Discover – Discover also has a shopping program called shopdiscover.com that allows you to earn cash rebates with merchant partners as well. Overstock.com is one of their partners and with Discover, you can earn 5% rebates. Here are some screen shots.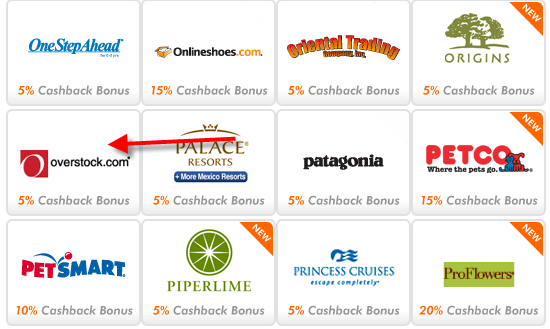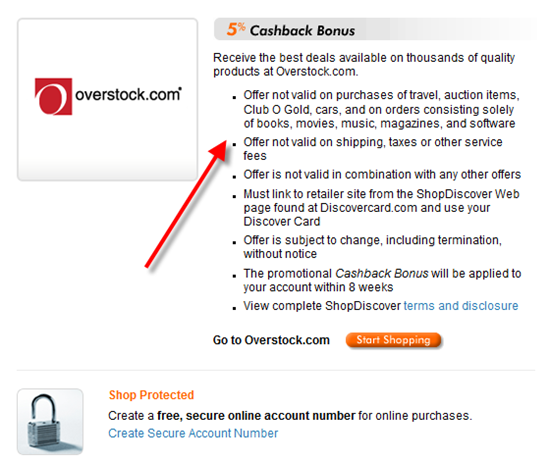 How it works? – Basically, when you are card holder of either cards, you have to access overstock.com via your account. The reason for this is to track your purchase with the card (it is the same site as if you typed in directly to your browser). The Chase Freedom® Visa – $100 Bonus Cash Back pays a slightly higher payout than Discover® More(SM) Card. But I would suggest you check out their other merchant partners as well as I suspect that you would not just be using the card to shop at overstock.com