by Jacqui Stewart
Both Chase Freedom and Citibank cards offer 3% back when you shop with Novica online. I have actually worked with Novica in reviewing their website and product and absolutely loved the concept behind it. The earrings I reviewed were from a crafter in Thailand: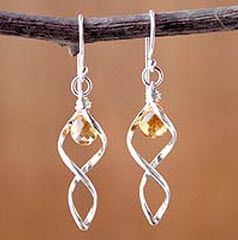 The craftsmanship of the earrings were without a doubt, fantastic. As with all the other crafters on this site, you definitely get your money's worth. From the Chase website:
NOVICA, in association with National Geographic, is pleased to invite you to partner with the leading provider of artisan crafted jewelry, unique gifts, worldwide fine art and home decor.
By shopping online through the Ultimate Rewards Mall you are acknowledging you have read and agree to the program terms and conditions.

Novica's Mission from their website:
We want to give artists and artisans around the world a global platform to express their true artistic talents and to spur their creativity. And, we want to provide you with access to unique, hard-to-find items at great values that only the Internet infrastructure can allow.
- At the deepest essence of our philosophy, we want to create a bridge between you and the many talented artisans across the globe.
- We want you to know about who you're ing from. We want you to feel that attachment to the product and to the hands that created it.
- In the spirit of the Internet, let us bring you together.
NOVICA. The World is Your Market.
After looking through Novica's website, there are many, many talented artists. I can pretty much guarantee that you will find one that you love. While you are getting the jewelry, home decor and more, why not get yourself rewarded too?