by Mr Credit Card
Macys.com is another online retailer on the shopdiscover.com network that is offering bonus rebates for the holiday season. In "normal times", Discover® More(SM) Card holders earn 5% rebates when they shop at Macys.com by accessing the site from their Discover account (and obviously use their Discover Card). For this holiday season, they are allowing cardholders to earn 10% (that is like a 10% discount).
Here are the screen shots and proof ! (since you actually have to be a card member to get this information).
When you log into your Discover Account and go to the shopdiscover.com page, you will see all the merchants. Click on Macys and it will take you to the page with all the fine prints.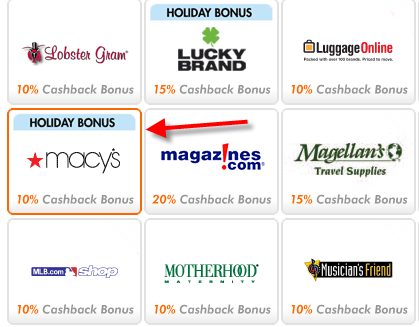 Then just click the "start shopping" button and you will be taken to the Macys.com site.
By shopping through your Discover account and with your Discover® More(SM) Card, your purchases will be tracked and you will get your cash rebates in your credit card.