by Mr Credit Card
It turns out that Hotels.com has got partnerships with a few credit cards that allow their cardholders to get discounts when they book through hotels.com when accessing the credit cards' shopping portal. In this post, we will look at the few credit cards that carry hotels.com as their merchant partners and see which one allows you to earn the most rebates.
Discover Card – Discover has hotels.com as their partner. Cardholders of the Discover® More® Card – $50 Cashback Bonus® can get 5% rebates when they book any hotels from hotels.com by going through their shopdiscover.com online shopping portal. Below are screen shots of how it works.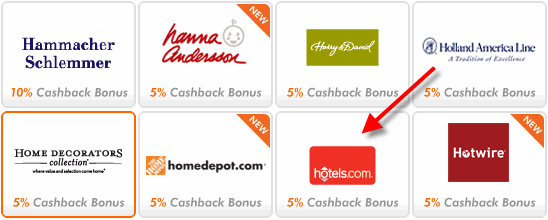 Clicking on the Hotels.com icon will take you to the fine prints page and from there, you can click start shopping and it will take you to hotels.com. If you use your Discover Card to make the bookings, it will be tracked and you will receive your 5% rebates.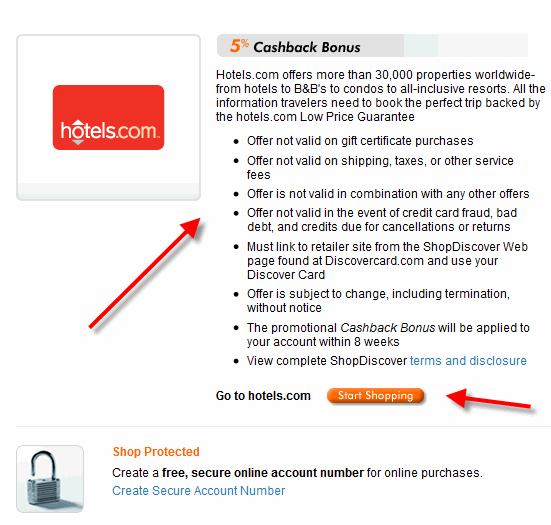 Chase Ultimate Rewards – The Chase Freedom® Visa® has the Ultimate Rewards as their reward program and Hotels.com is also a partner. You can earn 4% rebates when you shop through their shopping portal. Below is the screen shot that I took from my account.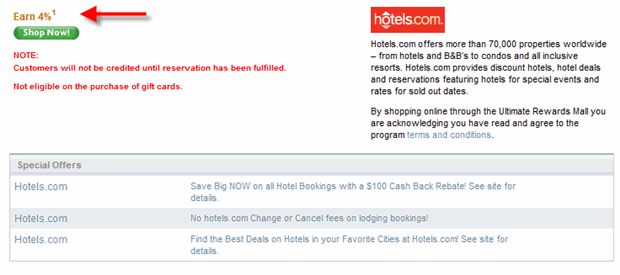 So if you are a cardholder of either card and you use hotels.com to book your hotels, make sure you take advantage of their online shopping portal as you can save a bit of money with the rebates that you earn.
Related Posts