by Jacqui Stewart
Yes, I know! It only turned October and I'm bringing up Holiday Shopping. It actually got me thinking because my child was talking about what she wanted for Christmas and Aeropostale shirts were at the top of the list. Currently Discover Card is offering 5% cash back bonus when you shop at Aeropostale. Not a bad deal. Getting rewarded for shopping? You can always use those points on Gift Cards to save some money! From the Discover Card Website: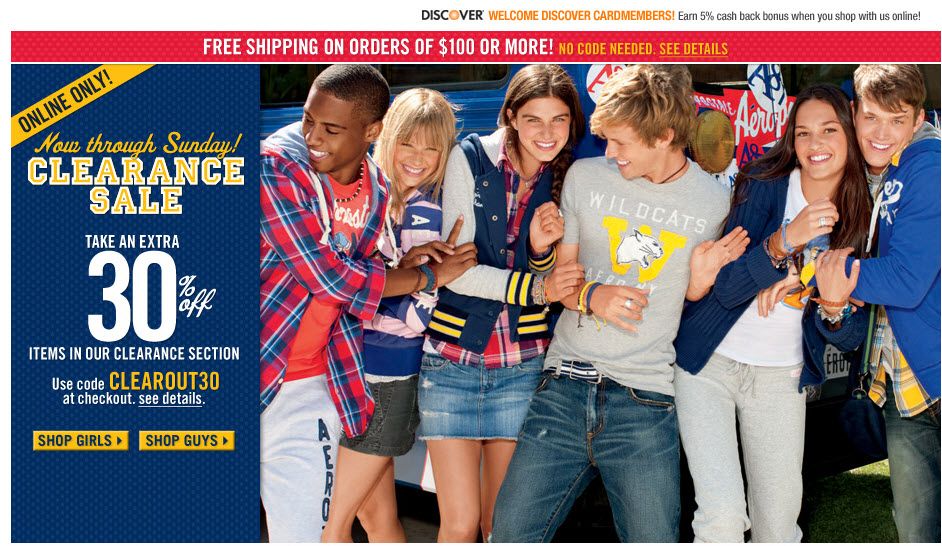 Find great prices on all the latest fashions today's teens are looking for at Aerpostale.com.
- Offer not valid on gift cards or online gift certificates purchases
- Offer not valid on shipping, taxes, or other service fees
- Offer is not valid in combination with any other offers
- Must link to retailer site from the ShopDiscover Web page found at Discovercard.com and use your Discover Card
- Offer is subject to change, including termination, without notice
- The promotional Cashback Bonus will be applied to your account within 8 weeks
- View complete ShopDiscover terms and disclosure
Currently Chase is offering 2 points back per dollar spent there.
From Aeropostale's site:
Aéropostale, Inc. is a mall-based, specialty retailer of casual apparel and accessories, principally targeting 14 to 17 year-old young women and men through its Aéropostale® stores and 7 to 12 year-old kids through its P.S. from Aéropostale™ stores. The Company provides customers with a focused selection of high-quality, active-oriented, fashion and fashion basic merchandise at compelling values. Aéropostale® maintains control over its proprietary brands by designing, sourcing, marketing and selling all of its own merchandise. Aéropostale® products can only be purchased in its Aéropostale stores and online at www.Aéropostale.com. P.S. from Aéropostale™ products can be purchased in P.S. from Aéropostale™ stores and online at www.ps4u.com.
Happy shopping!