by Jacqui Stewart
Currently Chase.com is offering their customers the opportunity to get 7 points per dollar spent at Sears.com. This is a limited time offer and will expire on 12/31/11. Which is great because Sears always has great back to school deals for a new wardrobe! From Chase.com:
Brand name appliances, apparel, and everything you need with a name you can trust.
By shopping online through the Ultimate Rewards Mall you are acknowledging you have read and agree to the program terms and conditions.
Retail prices provided for items displayed on this site are not guaranteed and are subject to change at the discretion of the merchant. Item availability is determined by the merchant.
I personally love shopping at Sears. They do have great quality clothing and a huge variety of styles that will fit anyone on your shopping list. Yes, even those hard to shop for teenagers!
Right now, Sears has the following specials going on for Father's Day as well as quite a few outdoor specials going for the upcoming season to enjoy your time outdoors: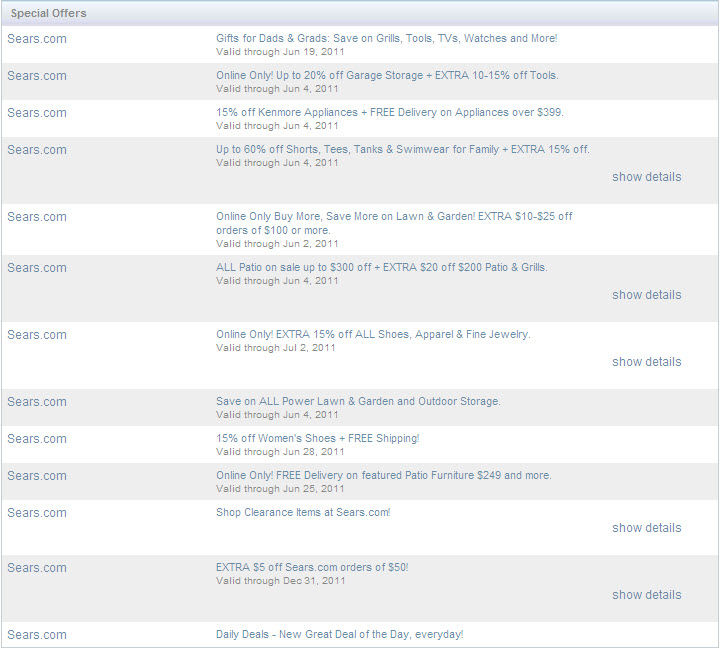 Discover Card and Bank of America offers 5% cash back while Citibank offers 6%. As always, to get rewarded for your purchases, you must shop online through the link provided by your credit card company. If you choose to shop outside of that location, you may not get credited for your rewards.