by Mr Credit Card
Believe it or not, Citi ThankYou members can now use points to download exclusive items for a ton of Facebook games including FarmVille, Mafia Wars, Treasure Isle and Cafe World.
For example, the Farmville Purple Tractor is available for 800 points which is available only through Citi ThankYou. The tractor can plow up to 2×2 plots with just one click and can be upgraded to plow larger areas using the Garage feature. XP gained = 50.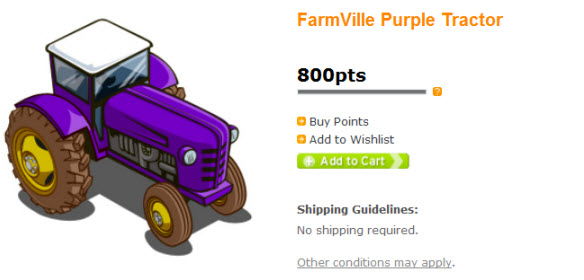 Instructions for the Facebook discounts:
Redeem the ThankYou points for the item you want.
Print or save the redemption code on the order confrimation page.
Go to https://www.zynga.com/redeem/ to redeem your code.
Connect to the game on Facebook and enter your code.
Just a few of the other social game offers you can use your ThankYou points for:

Cafe World

Mafia Wars


The Following Cards Have The ThankYou Network
Citi ThankYou(SM) Preferred Card
Citi ThankYou(SM) Premier Card