by Jacqui Stewart
Chase Freedom is the presenting sponsor for the Concert 4 NYC which is donating it's proceeds to Robin Hood. More information about Robin Hood from the Chase website:
ABOUT ROBIN HOOD
Robin Hood is the largest privately funded poverty fighting organization in New York City. Over the last 23 years it has provided over one billion dollars to the most effective poverty fighting programs in the five boroughs.
Robin Hood's board pays all operating and fundraising expenses so every cent raised will go directly to helping our neighbors in need
With Chase as the presenting sponsor, experience two exciting benefit concerts with VIP access.
Redeem your Ultimate RewardsSM points or use your Chase card to get your tickets now.
The below image will show you each package and how much you can either pay, or use your points for: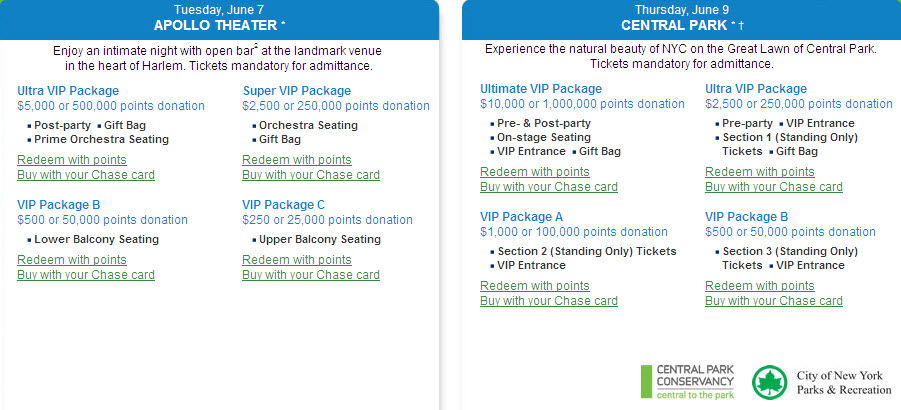 If you are paying for the tickets, you will need to contact your tax accountant to see how you will deduct this donation on your taxes. They will be able to assist you with this.
The Headlining act will be The Black Eyed Peas along with "friends". Not sure who the "friends" are, but, anything with The Black Eyed Peas will NOT be a disappointment! I personally love their songs and would just love to see them in concert. But, that's just me. I'll be jealous of all of you going to see them at this concert! Just a few other notes, should the weather be bad, refunds on donations cannot be provided if the concert is canceled. However, my favorite part of this? 100% of the proceeds go to this charity. Nothing will go to line the pockets of the bigwigs!
So, make sure you all say hi to Fergie and Will.i.am for me!