by Jacqui Stewart
Victoria's Secret is one of the best places to shop and for cute lingerie, regular clothing and other accessories. Chase is offering 2 points per dollar spent at Victoria's Secret online. From Chase online:
Earn 2 points per $ at Victoria's Secret.
Check out with your Chase card and your extra points will automatically appear on your statement.
Extra points typically appear on your statement within 3-5 business days but in some instances may take up to 45 days to appear.
Note: Your Chase account is still open on the original window where you logged in. If you're on a public computer, we advise you to close that window.
+ By shopping online through the Ultimate Rewards Mall you are acknowledging you have read and agree to the program terms and conditions.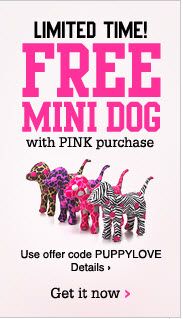 Citibank offers 2% and Bank of America offers 3% rewards when shopping online.