by Jacqui Stewart
In today's economy, when you go shopping, people want the best deal that they can get. Money is not something that we can just throw around. Buy.com offers a wide variety of items at great deals. Chase is currently offering 5 points per dollar spent at Buy.com. From Buy.com's website: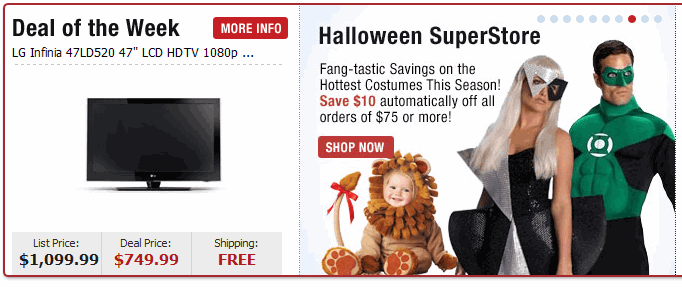 With millions of products in categories ranging from computer hardware and software to electronics, cellular, books, movies, music, sporting goods and more, we've got whatever it is you're craving 24/7, all year long.
Low Prices, Great Deals!
Why pay more when you can pay less? That's our motto. And let's face it, everyone loves to find a bargain. It's human nature. So, in response to human nature, Buy.com offers not only "The Lowest Prices on Earth" backed by our Low Price Guarantee on millions of new and cool products, but also some of the hottest deals you'll find anywhere on items that you just can't live without.
Bigger Selection, Better Buying!
You want it? We've got it! In order to provide the most hassle-free shopping experience online, we are constantly working with our suppliers to add new products so you have plenty of options from which to choose. But sometimes having options just isn't enough and that's why we work with our distributors every day of the week to ensure that all the hottest products are in stock and available for shipping.
Discover Card is also offering 5% back per dollar spent at Buy.com. From Discover's site:
With more than 18 million customers, Buy.com offers over 9.5 million products in a range of categories, including wine, consumer electronics, computers hardware and software, cell phones, books, music, DVDs, games, toys, bags, fragrance, home and outdoor, baby, jewelry, shoes, apparel and sporting goods.
- Offer not valid on shipping, taxes, or other service fees
- Offer is not valid in combination with any other offers
- Must link to retailer site from the ShopDiscover Web page found at Discover.com and use your Discover card
- Offer is subject to change, including termination, without notice
- View complete ShopDiscover terms and disclosure
Bank of America is also offering 3% rewards back when shopping at Buy.com. So, no matter the card you have, you have a choice in getting your rewards back.