by Jacqui Stewart
Discover Card has a promotion going on that allows you the opportunity to earn $50 in Cashback Bonus just by referring your friends. Your friends must apply for the specific offer you send them, and be approved. They also need to make their first purchase in order for you to qualify for the cashback bonus. From their website, the terms and conditions for this offer:
To receive the $50 Cashback Bonus referral reward, your friend must apply for the specific offer you send and be approved. You will receive $50 Cashback Bonus for each approved friend, up to 100 new cardmembers per calendar year. Offer not available for referrals that are existing Discover cardmembers. This offer is available online only. Individuals must apply for a Discover card by July 10, 2011. You will not be notified whether a specific referral was approved or declined. For email offers, your referral may not receive an email offer if they have previously opted out of receiving email marketing communications from Discover or are an existing cardmember. Your friend who becomes a new cardmember will also receive a $50 Cashback Bonus once they make a purchase within their first three months of account opening. Please allow up to 5 weeks for Cashback Bonus to post to your account after each referral is approved for their Discover card.
EDIT 5/9/11 – I spoke with a Discover Card representative and I was advised that she is not sure where this information came from. Apparently it was placed on the website in error. I know it came from their website as I copied and pasted it myself from their site. I was also advised that they DO have this opportunity coming available starting July 1st. The referrer as well as the person who applies and is approved will be eligible to receive $50.00 in Cash Back bonus awards.
Since you are not going to receive an email stating if your referrals were approved, you can check the status by clicking "Check your Status":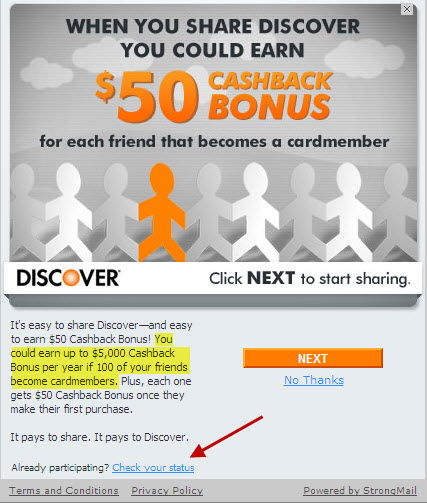 If you haven't signed up to look, you will need to provide your email address and a link will be sent to you: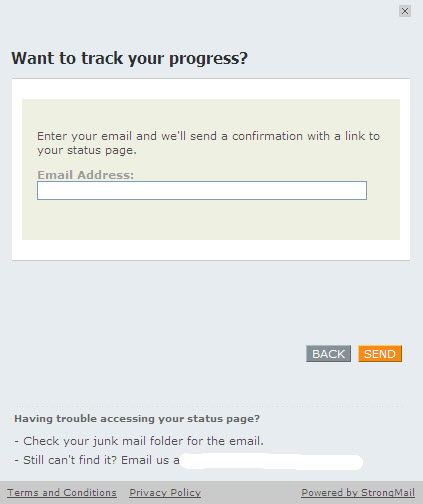 So, if your friends don't have a Discover Card, now may be the time get them on board!