by Jacqui Stewart
Both Chase Freedom and Discover Card offer 5% award on certain categories, throughout the year. Â Upon reviewing both of them, I was actually surprised at the similarities of the offers. Â How did they manage to get the same categories going for the same time frame is a question I unfortunately can't get answered.
Here is the Calendar for Chase Freedom: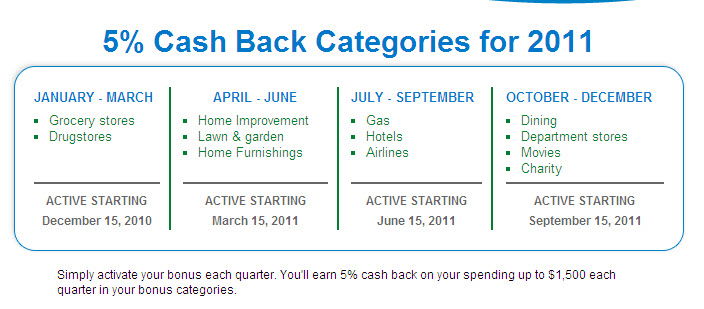 Here is Discover Cards Calendar:

However, while the categories seem to be similar, when you expand on Discover Cards, they offer more than listed. Â In July to September, they both offer Gas and Hotels, but upon clicking on that season, they also offer this extra bonus for movies and theme parks, where Chase offers the 5% for Airlines too. However, the main difference that I see? Â Chase freedom allows the 5% on purchases up to $1500 each quarter, where Discover Card offers it on purchases of up to $200 for Groceries and Drugstores and for April through June, it's offered for up to $400. Â There is no listing on the capped amount for the last two quarters.
Even though Discover has lower capped amounts, I don't see a reason not to double dip if you have both cards
.