by Jacqui Stewart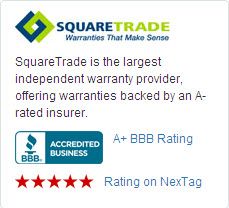 Not only will you be protecting your valuables, but, you are getting rewarded as well. When you sign up for SquareTrade Extended Warranty with Discover Card, you can also get 5% cashback bonus. From Discover Cards website:
- It's not too late to protect your purchases with an extended warranty that offers outstanding service at great prices.*
- Low Price Guarantee lets you rest assured you are getting a great price
- Find a comparable warranty for less and SquareTrade will gladly refund you 110% of the difference.
- 5-Day Service Guarantee
- Get your item fixed or you receive a full refund within 5 days of your claim.
- 100% Parts & Labor Coverage with no deductibles
- Cover all mechanical and electrical failures — even from standard wear and tear.
- Optional Accidental Damage from Handling (ADH)
- Guard against life's little mishaps on qualifying items, whether you drop your cell phone or splash coffee on your laptop. (Only available on qualifying new items).
- Online warranty management
- View, track and print your warranties and claims—even upload your receipts for safekeeping.
Earn 5% Cashback Bonus**
- Receive 5% Cashback Bonus with your purchase of a SquareTrade Care Plan.
Product Questions?
- E-mail us securely or call us at 1-866-DISCOVER
SquareTrade is the largest independent warranty provider, offering warranties backed by an A-rated insurer.
From communications with other consumers, they have had nothing but the best experience with SquareTrade's Customer Service. And from my previous posts, you all know how much I appreciate great Customer Service!
Have you signed up with SquareTrade already? What are your thoughts of them?