by Mr Credit Card
For those planning to take a cruise on Carnival Cruise, Discover Card offers their card members the opportunity to get 5% rebates (or discounts depending on how you look at it) when you use your card to Carnival Cruise Tickets through the shopdiscover.com online shopping portal. Below is a demonstration of how it works.
You first have to login into your Discover account. Then go to the online merchant partner page. Below is the screen shot of Carnival Cruise as one of their partners.

When you click on the Carnival Cruise icon, it takes you to the page where it lists the terms and conditions. There are a couple of interesting points that intrigued me.
Firstly, you are guaranteed the lowest price when you book
It may be used in conjunction with other offers such as: Past Passenger promotions, senior rates, etc. You simply have to confirm offer eligibility at time of booking.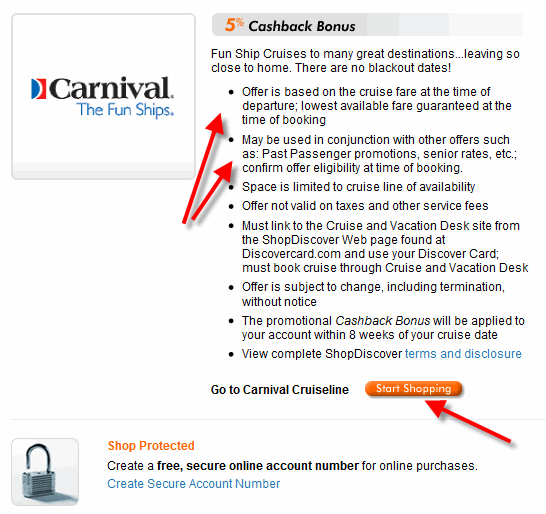 Clicking on the "start shopping" orange button takes you to the Carnival Cruise site (which is specially created for Discover Card holders and your purchases will be tracked here).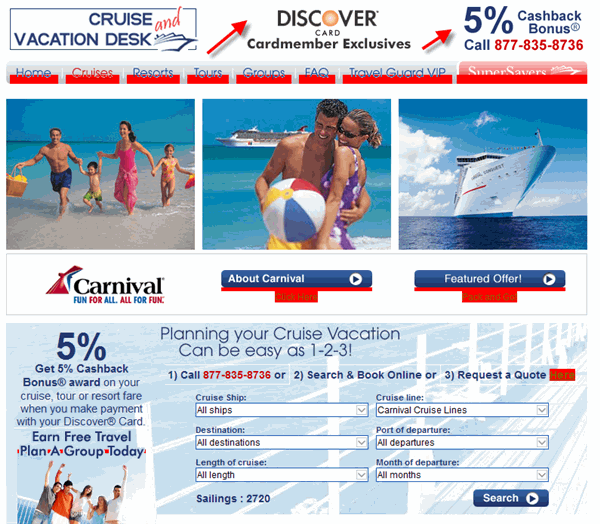 If you are a cruise person, then the Discover® More® Card – $50 Cashback Bonus® should be on your radar because of the discounts you can receive. They are also giving a promo where you can earn $50 cash rebates if you spend $599 during the first three months of your card membership.
Double Cash Back With Cruise Partners
Discover also has another exciting feature that will appeal to folks who travel on cruises. If you exchange the cash rebates you earn on the card for gift cards on their cruise partners, you will get double the value in your gift cards. (see Cruise gift card partners below). Hence, you can really get some serious discounts just from using a Discover Card for cruises.