by Jacqui Stewart
From April 1, 2011 through April 30, 2011, Chase is allowing you to bid on your dream vacations with your Ultimate Rewards Points. Currently up for Auction is a Four Night Mexico Vacation for two. The current bid is 54,700 points. This trip retails for $3698.00. The bid increments are at 100 points at a time.
From Chase.com page:
Located in the heart of Cancun Hotel Zone in Punta Cancun Mexico, Hyatt Regency Cancun features a superb location and white sand beach, with breath-taking views over the Caribbean Sea and Nichupte lagoon. Located on the prestigious Kukulcan Avenue, this hotel is a few steps from shopping centers, restaurants, cultural attractions and the nightlife area of the city.
This trip includes Roundtrip economy class airfare for two from most continental United States destinations to your choice of Cancun, Puerto Vallarta or other select destinations on board a scheduled carrier, including air taxes. Four nights accommodation at choice of several deluxe resorts, including room tax. And daily breakfast for two at most locations.
I've been to Cozumel Mexico during a cruise I was on several years ago and I loved it down there. Going to Punta Cancun would be a great long weekend vacation. Heck, any place with clear blue waters that you can see your feet is my kind of place! Travel must be completed by February 29, 2012.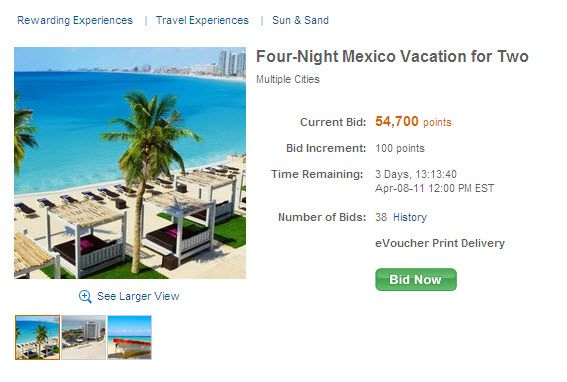 The next vacation up for bidding is a trip to Rome, Italy! This vacation retails at $5295.00. I have to admit. I'm crying over using my points for the holidays because of this one. I would have really loved to go to Italy on this trip. The bidding for this vacation opens on April 7th. Only a few more days!
There are some great featured vacations listed here. Such as an Alaskan Cruise as well as a vacation in Vegas baby! Good luck and Happy bidding! These trips are definitely Bucket List worthy!