by Jacqui Stewart
I love to read. Thankfully my daughter loves to read too. Barnes and Noble is one of our favorite stores to shop in for books. I decided to do a comparison with what Discover Card and Chase Freedom will offer if you shop here with their cards. It's definitely a difference!
Discover Card gives you 10% cash back on any purchase with Barnes and Noble. However, this excludes the purchase of the NOOK, NOOK Warranty, Gift Certificates, Barnes & Noble Gift Cards, Barnes & Noble Memberships. If you already have the Barnes and Noble rewards card that gives you a percentage off, then getting an extra 10% would be very nice when you redeem your Cashback Bonus.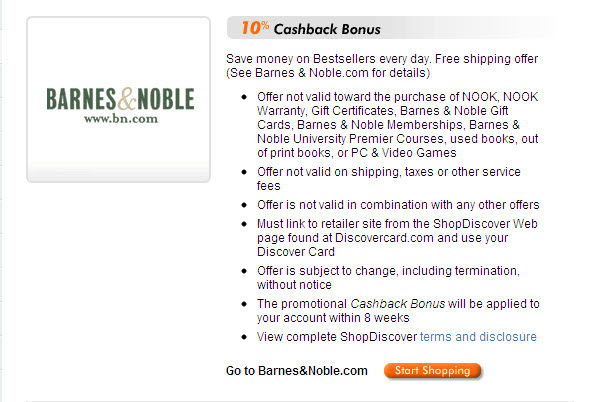 If you don't have a Barnes and Noble near you, or you don't have time to stop in, you can go to their website and they offer free shipping and handling. Just like you were there!
The Chase Ultimate Rewards actually increased their point earnings through March 31, 2011. You can earn 7pts per dollar you spend through this date. This offer DOES include NOOK purchases effective November 2, 2010. So, if you are looking to an eReader, my recommendation would be to use your Chase card to get those points. That would be a nice additional amount to your rewards. This promotion is for Online orders only. Orders where customer selects shipping method "Buy online, pick up in store" are not eligible. While Custom Gift Cards are not eligible, B&N Memberships (& renewals) are eligible as well.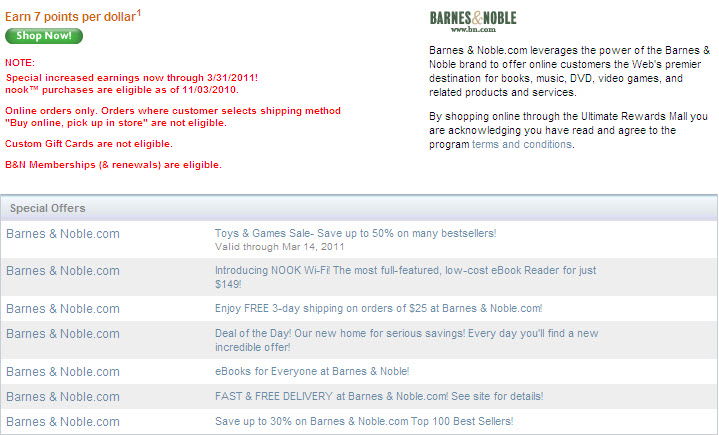 Happy Reading!